About
Zach Even – Esh is The Founder of The Underground Strength Gym (Locations in NJ with Manasquan & Scotch Plains), Creator of The Underground Strength Coach Certification & Author of the Best Seller, The Encyclopedia of Underground Strength & Conditioning.
Zach is also The Head Strength & Conditioning Coach for The Rutgers University Wrestling Team.
Since Zach began training athletes in 2002, Zach has served as The Strength & Conditioning Coach for The Lehigh University Wrestling Team & continues to work with & consult Strength Coaches around the world, D1 Coaches, Athletes & Programs.
Zach holds a BA in Health & Physical Education from Kean University and an MA in Health Education from Montclair State University. Zach began his own training in 1989 after his brother convinced him to join the wrestling team his freshman year at Edison High School.
Since 2002, Zach has been training athletes from all sports, the beginning of which started out of Zach's parents garage and backyard, then, at his first home in Edison where he began molding losing wrestlers into All State wrestlers and average athletes into dominant athletes.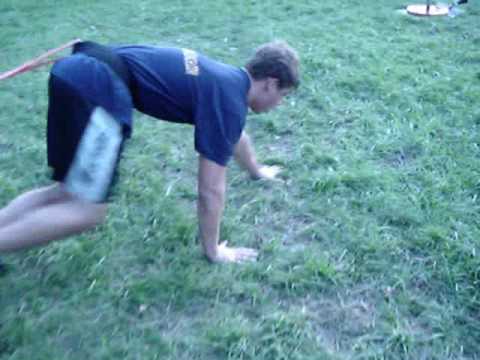 Above, Fall of 2006 Training Footage
This training at The Underground Strength Gym has evolved through constant learning and experience in training over 1,000 athletes ranging from the youth level to the Olympic level since 2002. Zach and his team of coaches are evolving, refining and improving their training methods day in and day out because THAT is what the kids deserve, EXCELLENCE. 
That is what The Underground stands for: The Relentless Pursuit of Excellence.
We do not work with athletes, teams, parents, organizations, etc that are kind of interested or kind of dedicated. A favorite quote if "Either You're In Or You're In the Way."
We expect that from ourselves as a Team of Coaches and we expect the same from the parents of athletes, coaches, teams, organizations that we work with. If at any time we see that the parents are vicariously living through their child and forcing their child to train here, we end your membership immediately without refund.
Through the years (since 2002) we have learned that our most successful athletes have supportive parents and sport coaches. If you're looking for a "special offer" or a unique discount we are not the training facility for your child.
The success stories from The Underground Strength Gym began piling up in 2002 and has since transformed well over 1,000 average athletes into All Area, All State, All Conference, State Champ & National Champ Accolades. The results have been unmatched.
In 2008, Coaches from around the world began flying to NJ when Zach opened his methods up for learning via The Underground Strength Coach Certification.
With over 2,000 articles online, in magazines, newspapers, videos and more, Coaches all around the world caught notice of these athlete transformations and success stories and have been flying to NJ from around the world to learn Zach's training methods to bring home and implement for their own success with other athletes.
We understand many gyms look the same, with the same equipment, etc. BUT….. It is The Coaching that changes the game and makes the BIG difference. Our success stories are countless, every month at The Underground Strength Gym the athletes here are shocking the naysayers and achieving success both in the sports arena and in life that they never achieved before.
If your child is accepted to train at The Underground, you can expect nothing less than a life changing experience here, one that will teach them life lessons, not just training that prepares them for sports competition.
The training here is not easy and we make no efforts to hide this fact.
We expect your son / daughter to work hard with consistency, this means year round training. Those who make excuses for being too busy in season or not enough time in the summer are not a good fit for our training. We encourage you to look elsewhere so you are not shocked by the commitment and intensity required to train here.
We want to help develop Champions. That takes consistent, hard work. Couple this with a scientific physical preparation program and the results are powerful.
We only work with supportive parents who understand that training for excellence is NOT a part time hobby or a quick fix. Our minimum training commitment is 3 months, anything less than 3 months is not done here unless you are a College / Olympic level athlete prepping for a specific event with a short time period available.
To achieve greatness you can't put convenience and easy in the same sentence.

Hard work, consistency and the desire to go above and beyond what "normal" athletes are willing to do must be the lifestyle you live.
We look forward to helping your child achieve their goals in life AND sports!
Live The Code 365,
Honesty, Integrity, Commitment & Work Ethic
— Zach & Team Underground Strength —