NJ High School Strength & Power Training
If you ever wonder HOW we train, the best thing to do is to visit our you tube page and see our training videos.
If you REALLY wanna gain access to our coaching to help you become a champion then PLEASE, do NOT call and ask for a tour of the gym.
Touring our gym does nothing…. and, only takes 10 seconds. Through the years, EVERYONE now owns Kettlebells, free weights, sandbags, tractor tires, etc.
The tools mean NOTHING, it's the coaching that brings the results.
In addition, we are very selective as to WHO we train. Affording our membership doesn't guarantee entree into our program.
Your entry into our program depends on your efforts during our trial workout as well as whether or not you have been referred to us from an existing athlete / parent. Your character is THE difference maker in your success.This applies to our athletes AND parents. Unfortunately, we've removed some athletes from our program when their parents had issues with morals, manners and supportive behavior.
Here are some short clips of our athletes in action. As always, it's harder than it looks. If hard work scares you, The Underground will not be a place for you. We simply can't be good for everyone.
http://www.youtube.com/watch?v=85JokdzvRAo
As you can see, we have a variety of athletes training here, from middle school / youth athletes, to high school, collegiate and olympic level athletes – they ALL work side by side.
If you're ready to become a champion we're ready to work with you.
If you sign up for your FREE Trial workout and our membership is full you have the option to be placed on a waiting list.
Our space is limited to ensure the best coaching for our students, we give OUR best and expect YOU to do the same!
In Strength,
– Team Underground –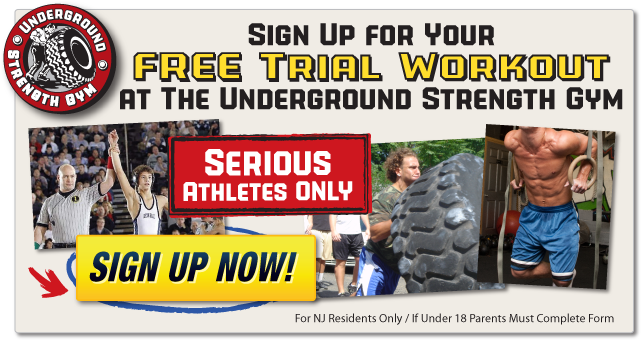 Tags: battling ropes nj, david ellis, high school baseball training, judo training nj, nj football workouts, nj high school strength & conditioning, NJ Wrestling Training, underground strength gym edison, youth athlete development, zach even esh