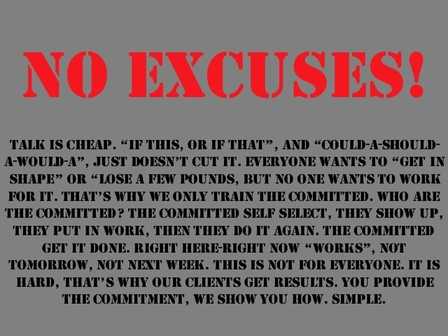 The Underground Strength Gym is NOT for everyone.
The reasons are either because the parents are unsupportive, rude and / or intrusive.
Or…. the athlete is lazy and full of excuses.
Your first 3 months here is a trial period. Some make it, some don't.
If you don't make it you're not invited back. Go to Retro Fitness or some other globo gym where doing half reps with half intensity is the norm and accepted as such.
If you make excuses that you're too busy and I see you posting a million comments on facebook, I know you're full of BS.
When you say the words "I'm too busy" I hear the words "I'm too lazy".
Are kids truly "too busy" nowadays, too busy to train 2 hours a week? Do you Honestly have THAT much homework, homework that takes you from 4 – 10 pm at night, 6 hours of homework a night? WOW. Impressive.
Is it truly a financial problem, or, does Johnny not have a job yet drives a Lexus? Did little Johnny EVER have a job? I had 2 paper routes at the same time when I was in middle school, one in the morning the other in the afternoon.
If it was cold, raining or snowing there were still NO excuses. Newspaper HAD to be delivered.
Excuses are MANY nowadays, commitment is rare.
At The Underground Strength gym, we want athletes who are committed to excellence and have NO excuses. Same goes for the parents. Don't be rude or intrusive, don't tell us how to train our athletes or that he needs to do extra work at the end of his workout or needs heavier weight. We're the experts and we create workouts that bring results, and yes, this means that a workout does not HAVE to last one hour.
Do I show up at your place of work and start shouting out orders? NO. Why would it be OK for you to do so here? Respect. Period.
THREE Videos below for athletes and parents to watch. Pay attention, because this is what we expect from those who want to become part of The Underground Strength Gym. NO excuses.
How Bad do YOU want it?
The Underground Strength Gym is a place our athletes will NEVER forget. The lessons they learn in this gym while going through their training to become champions will push them to the top of their game not just today, but from THIS day forward, forever.
It's about living to be better than your best and better than the rest.
Undergrounders will grow to become leaders in this world.
At The Underground, Learn today and you will NEVER forget.
See you at The Underground….. maybe.
Committed to Your Success,
– Z & Team Underground –
PS: To apply for membership read our requirements and call or e mail us. We are doing away with trial memberships. You either want in or you don't.
UndergroundStrengthCoach AT Gmail.com
(732) 379-9370