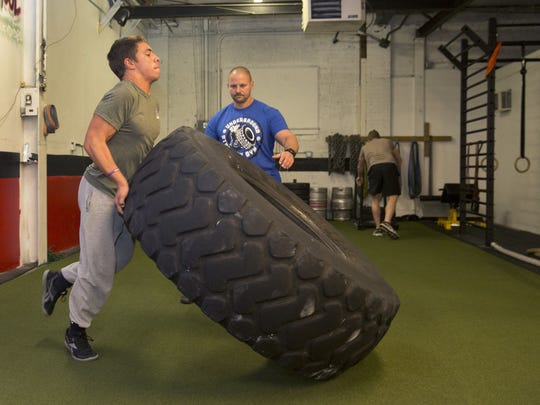 Since 2007 The Underground Strength Gym has been hosting The Lift STRONG Fundraiser as a benefit for The Leukemia Lymphoma Society and The Navy SEAL Foundation.
ALL proceeds are split equally to the 2 foundations.
Categories are for Middle School, High School, Adult Men and Women's Open. This is a FUN event with prizes and raffles!
Date: Saturday, August 10th, 2019
Registration Time: 9:15 AM – 9:45 AM
Start Time: 10 AM
Location: The Manasquan Underground Strength Gym
202 East Main St Unit 4
Manasquan, NJ
*** IMPT. Parking Note ***
We do NOT have parking at the gym.
Please park at CVS or ACME.
Do NOT cross the tracks to enter the rear of the gym as traffic cops will give out tickets.
Walk behind Kenny's Auto Garage and we are 1 building behind.
The Events for each Category are Below!
This year we are testing something different, we will hold 1 event for each category instead of the normal 3 events.
The goal is to keep it simple and get MORE people involved.
This is a fundraiser so the goal is to raise more money each and every year.
In 2018 we raised $5K and split this to both foundations! It was our most successful event to date!
Lift STRONG 2019 Categories & Events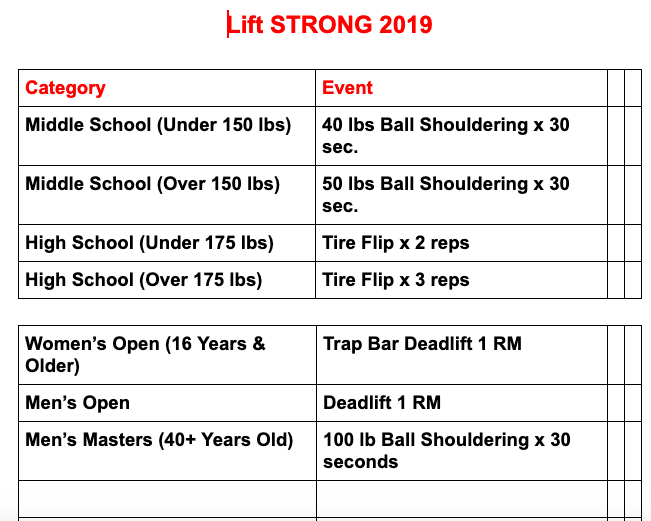 There will be prizes for The Top 3 Finishers:
Top 3 Overall Middle School
Middle School Age category is for 6th graders and those who just completed 8th grade
Top 3 Overall High School
 High School Age Category is for those who are in high school or who JUST graduated last June and Older
Top 3 Women
Top 3 Men's Open
Men's Open Age Category is for Men who have graduated High School in 2018 and Older
Top 3 Men's Masters
Donations will be at the Door.
Minimum Donations are $20 per person with options to donate more.

We will also be selling T Shirts at the event. Feel free to invite / bring your biggest fans, friends and family supporters to cheer you on!
Pre Register HERE

by Signing our Online Waiver Form (MUST be 18 or Over to Sign the Form)!
If you are under the age of 18 you need a parent / guardian to sign the liability form.
Please bring a copy or screen shot on your phone your signed online form.
You can also sign the liability form at the gym the day of the event.
When you arrive at The Underground Strength Gym you can check in at the front desk with your name and donation.
If you are under the age of 18 you need a parent / guardian to sign the liability form.
Thank you!
–Zach and Team
Thank You to Our Sponsors