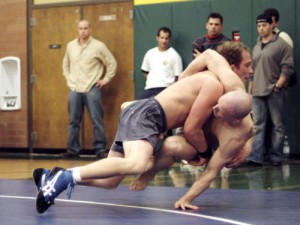 Last night was the 1st session of 6 at CJA Wrestling Club in North Brunswick, NJ.
This was a special Underground conditioning course I put together for SERIOUS wrestlers and we had 20 dead serious guys ready to kick some butt.
We rocked out endless gymnastics training, all types of partner combative drills and hand wlaking variations.
The not so serious wrestlers left and 20 stayed behind to begin their assault on becoming all state wrestlers.
It's the little extras you must do to get ahead and I'm psyched to have such a crew of hardcore NJ wrestlers to work with.
Till the next time…
Kill it!
–Coach Z–
PS: Wanna see the combative partner drills I use when I train wrestlers? Then check out my home study course at http://UndergroundStrengthManual.com
PPS: Wanna make the ultimate commitment and get the unfair advantage over your competition? Then become a member of my Underground Strength Gym, in Edison, NJ. Serious inquiries only can call or e mail.
Phone: 732-379-9370