"It is not the mountain we conquer but ourselves." ~ Edmund Hillary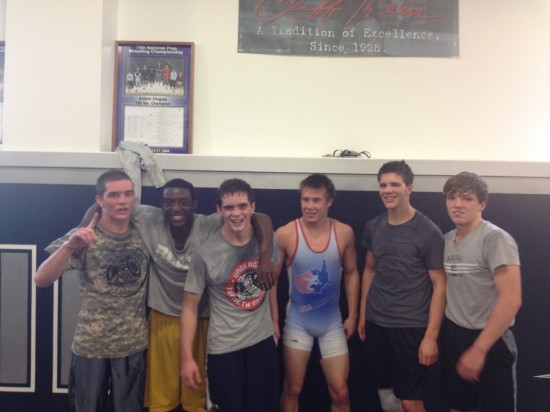 Above, Blair Wrestlers & Team Underground…. Drenched in Sweat, Some Blood, Aches & Pains But The Champions Always Do "Extra Credit!"

_________________
At The Underground Strength Gym, whenever the athletes finish a workout, I let our athletes know that they can stay extra and do "extra credit Champion workouts."
This can be ANYTHING, it doesn't have to be fancy, it can simply be doing an arm workout. It ALL adds up not just in the physical but most importantly, the mental aspect adds up.
When you do extra credit champion workouts, you boost confidence KNOWING you do the extra work that others make excuses for NOT doing.
Confidence is 1 of the Most Overlooked Aspects of a Training Program.
I've seen athletes who work hard BUT without great confidence, they never achieved the highest levels of success.
I've also seen the opposite: athletes who were perhaps not the most gifted in their physical traits BUT they worked so hard and had such an awesome attitude they surpassed those who had LESS confidence yet MORE physical prowess.
It is amazing to see how it all works.
Above, Chris Driscoll, aka Mr. Manasquan hits a PR of 360 lbs on the Deadlift! Bonus Points for The Epic Hi-5 & Hug with Ryan Marter!
Questions To Ask Yourself…..
– Are you doing EXTRA in life AND lifting?
– After each workout, do you bang out the extra 100 push ups, or the extra 100 squat jumps or sprint that extra 1/4 mile?
– Do you stay after and attack the exercise that challenges you?
Or…..
– Do you pat yourself on the back and tell yourself how great you are?
– I've got no time?
– I'm too busy.
– It's too hard to train at school and with a Coach.
As athletes mature and get older, some of them become LESS Coachable.
They get busier with social life, their Coach tells them to "Be a Leader" and run the workouts for the team, etc.
What kind of team only has 1 leader?
Certainly NOT a strong team.
I want an ENTIRE TEAM OF LEADERS.
Not 1 leader and 50 followers.
Pay attention to detail (Navy SEALs always say this) here: You can't always leave 10% in the tank if you expect to become a champion. Sometimes, you're gonna have to go 100% and sometimes you're gonna have to go 110%.

And truth be told, it doesn't take hours on end. If you've ready my Encyclopedia of Underground Strength & Conditioning, Coach Reeve wrote the intro describing his college workout that he did 7 days a week.
THAT workout only took him 17-20 minutes each time.
Nowadays the majority of kids rack up an easy 1 – 2 hours a day of text messaging. I am sure research shows it to be closer to 3 hours if I bothered to see this ridiculous statistic.
Lately I've been squatting 3 x week, sometimes more. I'll even go through a full blown workout and throw 225 – 315 on the bar and bang out a few sets of a few reps. I'm teaching the body AND mind to be strong even when under fatigue.
I want you to keep it simple and STILL challenge yourself with the little extras. The little extras are what add up to BIG victories. Remember, you're training for LIFE!
Live The Code 365
–Z–