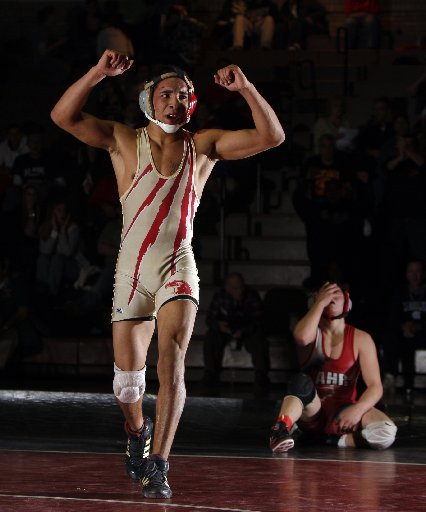 Ray DeLaNuez was on a mission to win the GMC wrestling tournament this past weekend.
He was training at The Underground 2 x week in the off season in combination with club wrestling.
In season we went to 1 x a week workouts but as The Middlesex County Wrestling tournament came closer, Ray DeLaNuez stepped it up BIG time and started coming in 2 x week again.
It payed off BIG time as he won the GMC Wrestling tournament at 125 lbs.
With his confidence soaring high after winning the GMC and pinning last year's 3rd place state winner from Perth Amboy, Ray has his sights set on dominating one mach a time, but his long term goals are to do some serious damage in Atlantic City in a few short weeks.
No excuses for Ray, he understands that hard work, a winning attitude and LONG term commitment and consistency is what will get him further.
If you're questioning your lack of success, you need to look at the holes in your overall training program. Fill in the holes.
You can train on your own, but it won't compare to the expert training knowledge and the highly motivated athletes you'll be around at The Underground.
In Strength,
–Z–
PS: You can wait and procrastinate to take action or you can do something about it right NOW. If you want to win, call us or e mail us to schedule your Free Trial Workout and we'll see if you're a good fit for our program.
Serious Inquiries Only Please.
(732) 379-9370