Here we are, week one with a few of our wrestlers training at our Underground Shore location, in Avon, NJ.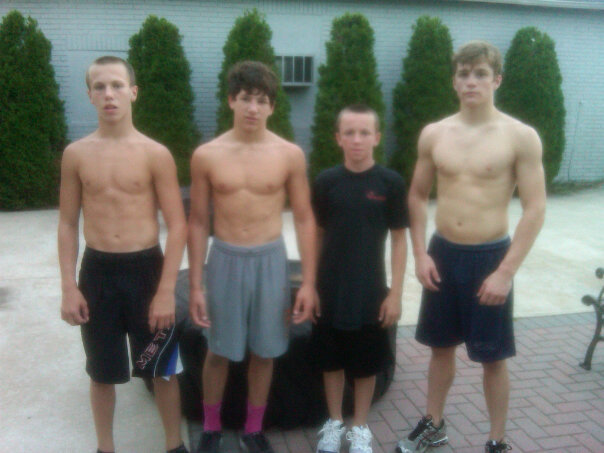 Above, left to Right: Howell Wrestler Matt Lindemann, South Plainfield state champ, Anthony Ashnault, Howell Youth Wrestler, Kris Lindemann, Howell Wrestler, Cole Cameron.
A FEW VERY critical things about the 4 wrestlers above:
Matt Lindemann was a state runner up in 8th grade, yet he knows he must get the edge to compete at a high level in high school. He didn't rest on his laurels of being 2nd in the state.
Anthony Ashnault went undefeated as a freshman and won a state title, as a state champ, he KNOWS others want to beat him, he is doing what others are NOT doing, he is training at The Underground.
Kris Lindemann is a 7th grade wrestler, most youth wrestlers & their parents don't consider aiding their athletic performance, but, we KNOW how to train our youth wrestlers differently AND correctly to ensure they don't train too hard and have tons of fun while doing so.
In fact, as hard as our workouts are, our athletes always have a blast.
Cole Cameron, entering 11th grade, knew he needed that extra edge to make a BIG impact this coming season. Rather than only get better at wrestling, he is also focused on edging out the competition by becoming stronger, faster, mentally tougher and better conditioned.
It's all the little extras that add up. The wrestlers above only train with us 2 x week (2 hours out of their week). Kris, a 7th grader, only once a week. We don't train more or longer because more is better.
Better is better and that's the bottom line. We do just enough to get the most powerful results and stray FAR away from crossing the line that leads to over training and burn out.
If you live in the Shore Conference and want to train with us in Avon, e mail us ASAP and ready our requirements HERE as space is very limited.
If you love in central or north NJ, our HQ is located in Edison.
Call us or  email us for a trial workout AFTER reading our membership requirements.
Serious Inquiries Only Please.
Thank You.
–Z–
732 379 9370
UndergroundStrengthCoach  AT  Gmail.com