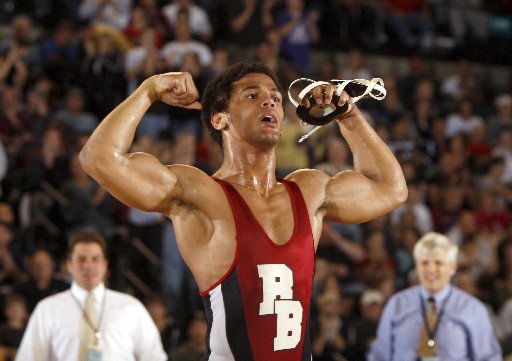 In the recent Bethlehem Holiday Classic, Two NJ Wrestlers clashed in the finals, Andrew Campolattano of Bound Brook and Mike Evans of Blair Academy.
Andrew Campolattano was 100-0 going into the tournament and Mike was a Beast of the East Champion.
Since late August, Blair Wrestlers have been going through specialized workouts as Coach Buxton and I consult on an almost daily basis.
The New program has made the Blair Wrestlers faster, stronger, more explosive and better conditioned.
When the workouts were first implemented, Mike Evans was actually struggling through them. Like anything else, with practice and commitment, he overcame and is now dominating the workouts that are coming his way.
BIG Lesson # 1: Most wrestlers, and athletes in general skip in season workouts and treat it as if it is not important. This is a HUGE mistake, especially if you end up competing against an Underground trained athlete who IS following a time tested system.
Here is some footage of Blair training at The Underground Strength Gym in Edison, NJ…. You can see BIG Mike Evans in there tearing it up as well…..
Another BIG Lesson here is the way Andrew handled his loss. He was upset that he lost, but he did not throw a fit, he didn't cry or make excuses, instead, he got busy the very next day and went to wrestling practice.
This loss is perhaps the BEST thing that ever happened to Andrew. It will fire him up and push him to even greater levels of intensity, commitment and desire.
Who knows, perhaps Andrew will also make the trek to The Underground, Bound Brook is a lot closer to Edison, NJ than Blair is.
But, for the dedicated, distance doesn't matter, excuses are not made, only action is taken and desire to win followed by massive action is what builds champions.
Congrats to Mike on this victory, AND, congrats to Andrew for being a true champion with sportsmanship and getting back into the practice room the very next day.
Lead from the Front
–Z–
PS: If you want to become a champion and you're NOT an excuse maker, cry baby or whiner, call us to schedule your trial workout.
(732) 379-9370
Serious Inquiries Only Please
PPS: Due to the intense nature of training & the commitment required, our program weeds out the half committed. Please do NOT apply for membership if you are not 100% committed to being a champion.