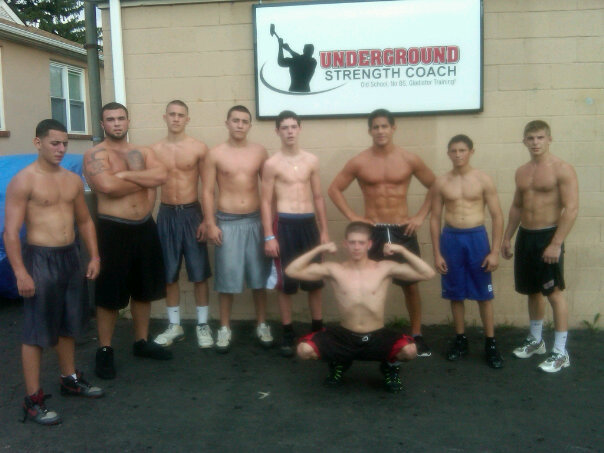 Gladiators, Left to Right: Dylan Marino / Freshman Football JP Stevens, Travis Woods / Freshman Football Montclair State University, Greg Grippo / Junior Rutgers Prep Basketball, Ali Yildiz / Sophomore South Brunswick Wrestling, Mike Jennings / Freshman Lawrence Wrestling, Zach Jacobs (center) / Senior Wrestling St. Benedicts Prep, Greg "Mr. Belmar" Zanetti / Rutgers Wrestling, Ray Jazikoff / South Plainfield Freshman Wrestling, Mike DeMarco / Rutgers Wrestling.
MIA is Russ Benner, who hit his final Underground workout before heading off to NC for D1 Wrestling at Appalachian State.
It was a Monday at 4 PM, the humidity was HIGH and the temps were in the upper 90s. NO excuses for this Underground Wrecking Crew.
They blasted through Kettlebells, Dumbbells, Ropes, Sandbags and Sprints. Several lost their cookies during the workout yet NONE of them quit!
Some notes from the ABOVE Gladiators.
– Dylan Marino broke his hand one year ago and was unable to perform 1 push up after the cast was removed. Today he can deadlift 315 for 3 reps and flip the 450 lb tire.
– Travis Woods was once upon a time 160 WEAK lbs, he was the most feared player during this year's Snapple, placed 2nd in World's Strongest Athlete, can deadlift 495 for 5 reps and bench 350 for 3 reps.
– Greg Grippo gained 40 lbs of muscle after training with us for one year AND has been accepted to Rutgers Prep AND has a box jump of 5 ft 2 inches!!!
Ali Yildiz – this dude is cranking BIG time between training Underground & wrestling at CJA. Ali is only going to be a sophomore and beat a District champ and MANY region qualifiers during summer tourneys. The kid is on a mission!
Mike Jennings – all state in 8th grade states for wrestling after training for a few short weeks, on a mission to get brutally strong and ready for freshman wrestling!
Zach Jacobs – Zach has been hitting morning AND afternoon workouts with us ALL summer, traveling overseas for wrestling and prepping for a BIG run in his final wrestling season at St. Benedict's Prep. Time to win a prep state title and become a prep All American.
Greg Zanetti – In high school, Greg was a state runner up and is currently a Rutgers Wrestler, aka The Rutgers Wrecking Crew. Greg has been tearing up The Underground & is on track to put a hurtin on his competition this coming season.
Ray Jazikoff – One of the toughest freshman 103 lbers to be entering high school this season for South Plainfield Wrestler, Ray Jaz ALWAYS spends an extra hour in the gym and there was a time when Ray's Dad fell asleep in his car waiting for Ray to finish. Another night we had to kick Ray OUT of the gym, we even shut off the lights and he kept training!
Mike DeMarco – Another part of The Rutgers Wrecking Crew, Mike D has worked his ass off like only a Gladiator could. The results are going to shock EVERYONE this coming season on the mat. He has THE eye of the tiger!
Russ Benner (MIA) – Russ proved his intense commitment to win and hit a final Underground workout on his final day in NJ before driving down to Appalachian State in North Carolina for D1 Wrestling.
Russ qualified for states 3 years in a row, after training at The Underground he became all state and finished 5th in NJ. I watched Russ get his 100th win with a pin. I'm BIG time proud of Russ and all he has accomplished. His work ethic is second to none! He will be missed by ALL of us as he heads south to wrestle. Plus, his car is Cool as Hell!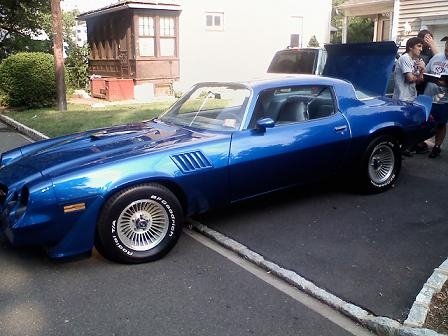 If you think YOU have the commitment and desire to become a dominant athlete then read our Membership Requirements HERE. From there, if you're REALLY serious, you can call or e mail us.
In Strength,
–Z–
PS: We are committed to the success of our athletes, period. We do not train anyone unless they are a competitive athlete. This allows to focus on exactly what an athlete needs and wants.
We don't train house wives or people looking for fat loss. We are experts at helping athletes dominate their competition.
Click HERE to see if you qualify to become a member.