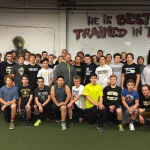 STRONG Life Academy
The STRONG Life Academy
Are You a Coach, Athletic Director, Parent or Booster Club President Looking to Bring Team Building, Leadership & World Class Sports Performance Training To Help Your Athletes Achieve More Success In BOTH Sports AND Life?
Watch Your Team Transform Themselves Both ON & Off The Playing Field As They Develop Greater Self Confidence, Leadership, Team Cohesion, Work Ethic & Character.
Training Sessions, Fundraiser or Seasonal Training Options….
The STRONG Life Academy Goes BEYOND "Strength & Conditioning".

SLA Empowers & Transforms Athletes in Mind, Body & LIFE!
The STRONG Life Academy trains youth, high school and college teams in group settings.
The old saying of "Rise to the Occasion" is Simply NOT true.
Teams and Athletes will NOT rise to the occasion unless they've been prepared BEYOND the physical realm.
You Will FALL to the Level of Your Training. That is the Truth.
This is Why The SLA Delivers a Training System to Transform Athletes Resulting in Greater Success in Academics, Athletics, Social Life and Beyond.



The Results?
Athletes / Teams Develop Greater Trust in One Another
Athletes / Teams develop Greater Self Confidence to Perform at a Higher Level Than Ever Before
Dramatically Reduce Chances of Injury
Nutrition Guidance to increase energy, focus & promote lean muscle building.

Team Bonding to create Leaders on and off the playing field.
Athletes Develop Greater Character & Accountability. Parents & Coaches now have an easier "job" as student athletes begin doing the work on their OWN.

Greater Leadership Developed Within the Team, Leading to Self Motivated & Accountable Athletes.
Work Ethic Dramatically Increases in Academics, Athletics, Home Life and beyond As Athletes Develop Greater Knowledge in Training, Nutrition, Lifestyle & The Relentless Pursuit of Excellence in ALL areas of Life.
If you're ready to help your school or team transform themselves into Champions in ALL areas of life, E mail Zach Even – Esh

HERE

with your goals and we'll get Started.