Team Underground –
BIG news and BIG thanks to the parents who helped us with your success stories and feedback!
Thank YOU BIG time!!
BIG congrats to Team Underground Wrestlers, Jake Daniel & Mikey Klimkiewicz.
BOTH have been named Co Captains for next season & Mike is ONLY a sophomore!!
Mikey's Coach is BIG tie impressed with his work ethic and commitment as are we.
Both These kids are work horses & embody the discipline and work ethic required of becoming a champion in BOTH sports AND most importantly, LIFE!!
You can see a before / after photo of Mikey right here: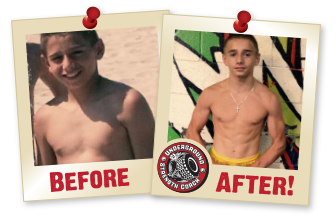 We're gonna have take another pic as Mikey has packed on a LOT more muscle since this photo.
And Jake…. This kid has been training on ONE leg for an entire month. He sprained his MCL and Doctors put a full leg brace on him, which, didn't stop him! He trained on one leg 5 DAYS A WEEK! That's right, he trained Monday – Friday!!
Here are some more success stories:
– Brett Donner Wrestled undefeated at Va Beach Duals!
– Luke Niemeyer went 7 – 1 at the duals, check out the facebook message his Mom sent us!!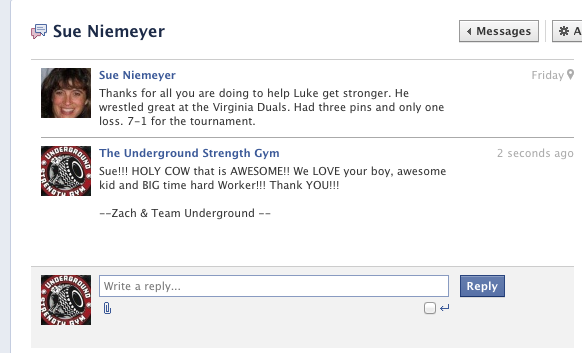 Dedication & Commitment!
Now, let's welcome our new athletes to BOTH our Edison & Manasquan locations!
Welcome to The Underground Strength Gym & TEAM Underground!
Giancarlo Crivelli of Pt Beach Wrestling
Vincent Storino of Pt Beach Wrestling & Baseball
Daniel Makagon of Old Bridge Wrestling
Brett Donner of Wall Wrestling
Dan Kinsella of Wall Wrestling, Heading to TCNJ Wrestling
Greg Grippo of St Michael's U in Vt
Aidan Drury of North Brunswick (Youth)
Jake Staggard of North Brunswick (Youth)
Luke Niemeyer South Plainfield Wrestling (Youth)
Joey & Gian Ghione of Brick Memorial Wrestling
Vincent Fichera of Toms River North Wrestling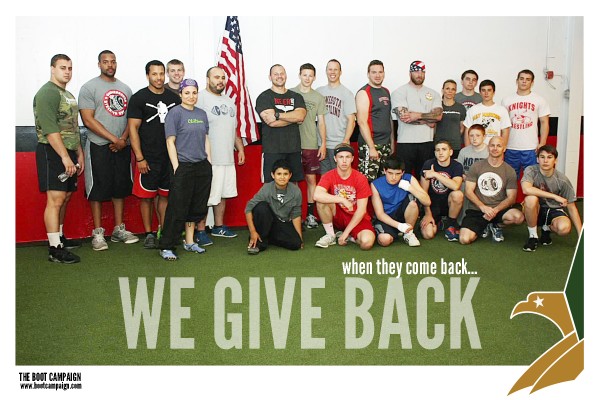 Push Ups For Charity Update!
With donations coming in from around the WORLD….. Our donations are creeping closer to the $4,000 mark! ALL our donations were sent to The Boot Campaign to benefit wounded warriors!
___________________________
Team Underground Athletes & Parents –
We are honored to help you all become champions in sport AND life.
We are grateful that your parents trust us.
We will NOT let any of you down.
Period!
Parents, if you missed our last e mail, please read below.
_________________________
Parents – We need your help….
Please reply to this e mail as were collecting success stories from YOU.
Tell us what training has done here for your child both physically and mentally.
Think back to when your child first started training here and where they are now.
This can be as short or as long as you want.
Just Reply and send me your message.
E Mail Us ==> UndergroundStrengthCoach@GMail.com
I am excited to see your reactions as we're collecting success stories.
Thank YOU and if you have any questions or need our help on anything, say the word!
Live The Code
Honesty
Integrity
Commitment
Work Ethic
–Z & Team Underground–
PS: Please forward this Blog Post to any friends, co workers or family members that will benefit from these tips.
Want to help your child become a champion?
Call Us Now for your FREE Assessment ==> (732) 379-9370
http://UndergroundStrengthClub.com (Edison Location)
http://UndergroundStrengthClub.com/Manasquan
Subscribe to our Newsletter:
==> https://undergroundstrengthclub.com/members/