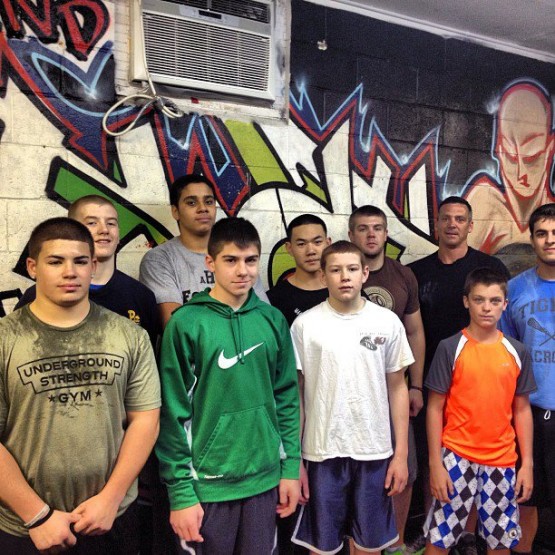 Above, The New Year's Eve Wrecking Crew! Where Were YOU!!??
Monday morning, 9 am, 10 athletes showed up ready to kick ass and take names.
Others were in wrestling, basketball or track and field practice.
Then there were others…..
You KNOW who you are.
9 am was "too early" for you….
you were "too tired"….
Shame on YOU. I get disappointed in the slackers because I KNOW you can do better, you just don't WANT to do better.
The Champions out there, your competition….. They LOVE people like you. The excuse makers and slackers make it easy for others to win. It makes it easier for the Champions to climb to the top.

If you are too tired and too lazy to get your ass out of bed for a 9 AM workout, the TRUTH is this:
– YOU Will NOT Achieve Above Average Success
– That's the TRUTH that your Coaches can't say to you with fear of losing their job and that's the TRUTH your parents don't tell you because they hope you will be above average.
– Hoping does NOTHING. Start doing the WORK.
– YOU have the potential to become GREAT, but potential only comes to life when you rise above and do the work that others fear.
I believe in YOU!

[youtube width="640″ height="360″]http://www.youtube.com/watch?v=wzF468S1Cqc[/youtube]
NEW Hours at The Underground Strength Gym:
Tuesday: 5, 6, 7 PM (NO More 4 PM class on Tuesday)
Friday: 4 & 5 PM (NO More 6 pm class on Friday)
Live The Code & See You At The Underground Strength Gym!
–Z–