What Are The BIG 3 Mistakes Parents Make When Choosing
A Strength Coach For Their Child?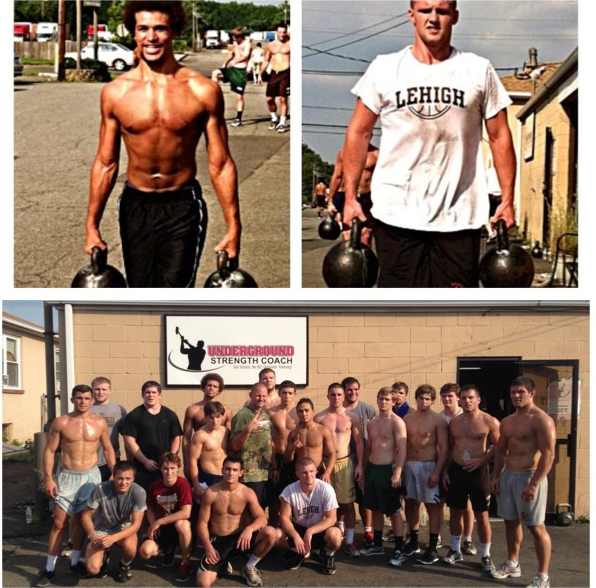 Through the many years of working with athletes and seeing the explosion of strength coaches around the country I have noticed some common themes that seem to confuse parents and ultimately hurt their child's success.
As a parent myself, the phrase "time goes too fast" is severely underrated and the window of opportunity that athletes have to achieve success is small.
These common mistakes that parents make have happened (and continues to happen) at all levels of sports, from youth, to high school to the collegiate level.

Pay attention to these critical mistakes and avoid them to give your child the best opportunity to maximize his / her success.
1) What is The Coach's Track Record for Success?
Before you commit to signing your child up for training with a Coach, or perhaps there is a Coach at the high school your child goes to, you want to find out what this Coach's track record for success is.
Many Coaches get hired in schools or in facilities because not so much in part due to their knowledge, but often times out of convenience. As a former public school teacher I have seen some dangerous stuff happening inside high school weight rooms that were run by the sports coach or the math teacher.

Yes, it's great to bring a teacher or coach in who works in the schools but what's best for the kids is a safe program, one that has been proven to be effective with a Coach who has a track record of building stronger, faster and more powerful athletes.
As a Coach and Parent, I would ask myself why these kids weren't getting the training they deserved? People told me I "cared too much".
I had no clue there was such a thing as caring too much. I don't see any other way to work with athletes.

Other times I noticed schools hiring a former college athlete to run the weight room, assuming that college sports experience is the same as being a highly qualified performance coach.
The mistake here is assuming that a high level athlete is also a high level coach.

Many high level athletes are NOT high level coaches. Being a competitive athlete and a successful coach requires different levels of experience and knowledge.
Some successful athletes who become coaches don't understand how a less gifted athlete needs to work physically or mentally to get to that next level. They've never been in those shoes.

I have seen Olympic Gold medalists with absolutely NO knowledge of strength & conditioning as well as national champs who could not command attention and run a great practice.

[youtube width="640″ height="360″]https://www.youtube.com/watch?v=eUMVWIpSb6M[/youtube]
Ask the Coach for his track record of success and then ask yourself the next question:
1) Does your Coach have a long term, proven track record for creating success working with athletes?
2) Are you choosing a Coach based on them being closer to home, conveniently located in the school and / or cheaper priced?
Not all, but many high school strength & conditioning coaches fill the position because a favor is being handed to them OR they work in the school district and it's cheaper to pay them a little extra to open the doors to the weight room. 
In experienced coaches have a tendency to place every single athlete on a cookie cutter program, never addressing individual weak areas, injuries, knowledge of building a solid foundation or remotely knowing anything about safety and technique.
There is a reason a Coach is  cheap, just like there is a reason cars, clothing and certain restaurants are cheap.
Excellence is rarely conveniently found around the corner and cheaper.
Excellence takes work and your child deserves excellence. 
A powerful strength & conditioning program will address your child's individual level of overall fitness & physical preparedness, the program will address weak areas, imbalances, injuries and most of all, the program will address your child's level of mental / emotional readiness.
When you see athletes training at The Underground Strength Gym you'll notice that they are all on a different program, each program tailored to that athlete's specific sport, his / her weak areas and emotional needs. Training an athletes goes FAR beyond getting faster, more explosive and stronger.
As a parent myself, I don't look for the cheapest coaches and what is 5 minutes away, I look for the best for my kids.
Kids deserve the best. I see no other way.
[youtube width="640″ height="360″]https://www.youtube.com/watch?v=USd7tP2jQwQ[/youtube]
Committed to your success,

– Zach & Team Underground Strength –
Located in Manasquan & Edison, NJ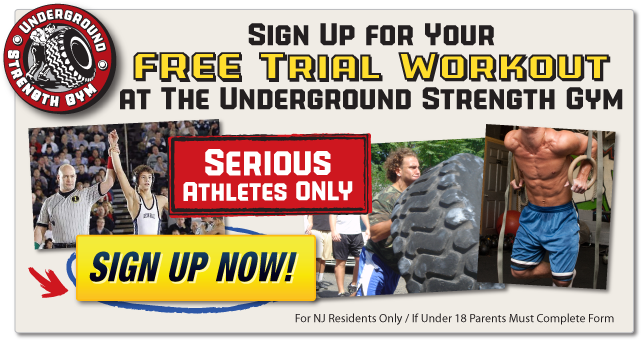 Check Out These Success Stories
[youtube width="640″ height="360″]http://www.youtube.com/watch?v=us3XJw97YvU[/youtube]
[youtube width="640″ height="360″]http://www.youtube.com/watch?v=7vh1a-zNuFs[/youtube]