Time flies!
This weekend is already the district tournament for wrestlers.
It is the weekend when the TRUTH comes out regarding every wrestler's preparation or lack of preparation. For some, it is the beginning of their journey and goals towards Atlantic City where the state championship is held.
For others, it is the end.
Small Minds and Small Goals lose out.
Coaches who say things like, "We just want to win 1 match here" or other feeble goals never make it.
As I always say, "Kids don't know what they don't know."
What does this mean?
– It means that if an athlete has a coach who doesn't care & parents who don't support him in training then he thinks THAT is "normal".
– On the contrary, if a kid has a Coach who cares and is always encouraging, organizing off season training and has parents who take him to sport clubs and strength clubs, then that kid thinks THAT is "normal".
What kind of "normal" are you?
The one who accepts average and "good enough" or the one who seeks out Excellence and nothing less?
In the pic above you see my son and I with Olympian and 1 of the most decorated NJ Wrestlers of all time, Steve Mocco. Steve was a Blair Academy wrestler under Coach Buxton which is how we originally connected. Steve was a 4X D1 Finalist and 2X Champion.
That pic was in Florida while my daughter had Tennis Camp for the week, we were lucky enough to train with Steve as our hotel was 300 feet away from American Top Team. I met with Steve one morning and did some consulting with Steve on his training.
I also took The American Top Team Fighters through our signature Underground Strength Gym Power Warm Up which was an awesome experience. There were about 50 fighters and they got after it.
The wrestlers training with Steve were mostly 30-60 minutes away each way. The locals within a few miles were NOT there. He said there are high schools literally minutes away not showing up. I guess being an Olympian to help the local team is an inconvenience?
I have heard the saying that you can not be a King in your own backyard. Hence why Edison and Manasquan locations have 2 or 3 kids from each town and 95% of our athletes are from surrounding towns.
The only answer to this is what is called "Mysteries of the Mind".
When a team or individual athletes have a losing record, then they NEED to get stronger, tougher, faster and more skilled. These traits will NOT improve by avoiding the WORK.
With the state tournament 3 weeks away, "the hay is in the barn."
This means that you can't try to cram in the work NOW to make up for the Lack of work before. You either did the work or you didn't.
I am excited to make my annual trip to Atlantic City to watch the state wrestling tournament. To get there takes serious WORK. Not just 1 season of work but often times it is years & years of work that all come together.
Success is NO accident.
PREPARE
PERFORM
PREVAIL
Another factor to be addressed is that of challenging yourself.
Strength is the product of Struggle.
I respect Coaches who organize a tough competitive schedule. This way, the athletes know the truth of where they stand. When you're beating opposing athletes / teams that you know or sub par, is it REALLY a win? NO.
The truth is the truth.
The Struggle is how and when tough, successful athletes are built.
Kris Lindemann of Howell EARNS His 100th Career Victory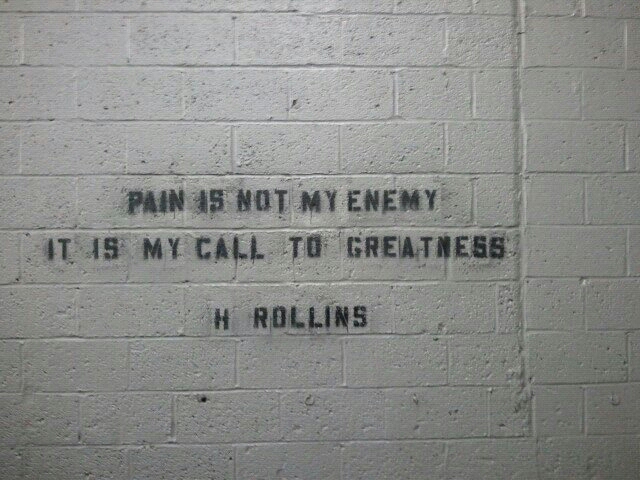 We train to WIN at The Underground Strength Gym of Edison and Manasquan.
Outside of the gym, you MUST live the champion lifestyle and do all the extras required to succeed.
"When the Student is Ready,
The Master Will Appear."