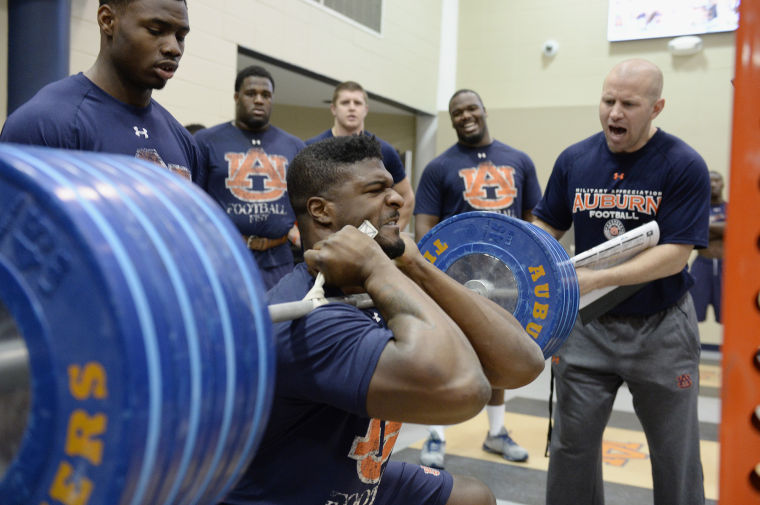 Above, Auburn Football Going Through Their "Football Specific Workouts"
I'm NOT just on a mission to build Champions in Sports AND In Life…..
I'm on a Mission to educate the public so they STOP getting fooled into trickery.
Our young athletes get duped and spend their money on "special protein shakes" that will help their muscles explode and get the best pump and workout of their life!
I can assure you, that protein shake will NOT send you to the Big Leagues.
The Football Coaches who say they follow XYZ training program yet they don't produce A LICK of the results that this training program produces from the Coach who Created it?
There are too many Football Coaches pretending to be Strength Coaches…..
I found Video footage of the Top D1 College Programs in America doing their "Football Specific Workouts" and here's what I found:
– Deep Squats
– Bench / Floor Press
– Bodyweight Training
– Sprints with Sleds
– Heavy Carries
– Unilateral Training for Upper & Lower Body
– Jump Training
– Power & Hang Cleans
– Wrestling Drills
Auburn Football Workouts
South Carolina Football Workouts
My Thoughts On All This Trickery of "Football Specific Workouts"…..
Inside The Manasquan & Edison Underground Strength Gym
What athlete, Football player or other sports, doesn't need to be?
– Stronger
– Tougher
– Faster
– More Explosive
To this day I haven't worked with an athlete who is "good enough", there is always work to be done.
The BEST athletes accept the work and go for it.
The average athletes make excuses and ONLY want to do what they like to do, not what they Need to do.
Be a Champion or be Average.
The choice is yours.
And…….
You're smarter than that. STOP getting duped and tricked by the fads, gimmicks and BS. The Success will come from Your Work, NOT from your Excuses, your protein shakes or your speed ladders.